---
Features:
Compatible with PCI Express Base 2.0 Specification; Compatible with xHCI Specification Revision 1.0.
Max extension distance 100 Meters (330 Feet) over OM3+ Multi-mode fiber optic cable;
Support Full Duplex with 10 Gbps SFP module; Transparent USB; Plug and Play (no software drivers needed);
Compatible with  Windows 8, Windows 8.1, Windows 10, Windows 11, full version of the LINUX, UNIX or Mac OS operation systems; Host-side powered via USB port from host PC
Support USB 3.0 Super Speed up to 5 Gbps, Backwards compatible with USB 2.0 and USB 1.1 for Tx device at the client side . 
Description:

USB 3.0 To Fiber System includes a transmitter(client-side)and a PCI-E extension card receiver(host-side)which is installed in the PCIe sloExts in the host computer. it can extend the Super Speed USB 3.0 to a remote location over 100 Meters 2 core Multi-mode fiber cable (OM3/OM4/OM5).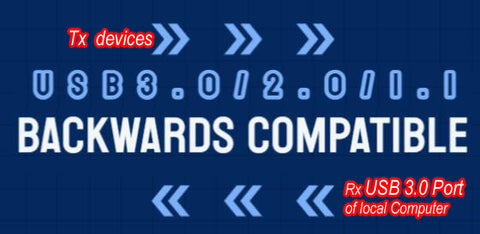 Note: 1)The transmitter is Backwards compatible with USB 2.0 and USB 1.1. 2) SUPPORT Touch Monitor like Dell P2418HT, Videobar like Bose VB1 etc, these devices need the USB 3.0/2.0/1.1 backward compatible. 3)  The receiver must be inserted into USB 3.0 port the host computer. 4) BY-PUSB-327MF, 4 Ports of the hub share the 5 Gbps Capacity of 1 port at the local side, so it allows only 1~2 USB ports (like USB 3.0 Camera) work at the FULL speed at the SAME time, but for USB flash disk,  each of 4 ports can work at the SAME time.
Supported Typical USB 3.0 Devices (the last image):
1). USB 3.0 Camera:
Intel RealSense, XiQ USB 3.0 Camera, Kinect Xbox, Kinect Azure, EMCCM camera etc
2). Instruments:
Data Acquisition, Spectrum Analyzer, Oscilloscope, Ultrasonic Testing, Telescope etc
3). Aduio Device:
Stereo D to A Converter etc
4). Computer Peripherals:
Keyboard Controller, USB 3.0 Printer, USB 3.0 Flash Drive etc
5.) USB 2.0/1.1 Devices like Keyboard and Mouse & Audio devices
Application:
1.Industrial video transmission
2.USB 3.0 Vision cameras.
3.HD video surveillance system.
4.High - speed data acquisition system.
5.Remote storage.
6.Digital signage and TV wall.
7.Industrial printer system.
8. VA/VR systems.
9. Telescope Site.

Specs:
Optical Connector: 2 x LC
Wavelength: 850nm
Support Fiber types: OM3/OM4/OM5
Physical Size (L× W ×H):
1).Client unit: 104 mm x104 mm x28 mm
2) The Card at Host: 120 mm (for 4U chassis)x 67 mm x 58 mm; 80 mm (for 2U chassis)x 67 mm x 58 mm;
Case material: Aluminum
Color: Black
N.W.: 0.5Kg
Power:
Sender Voltage:5~12V DC
Sender power consumption: < 18W (BY-PUSB-327MF); <10W (BY-PUSB-126MF)
Receiver power consumption: Less 2W
Operation temperature:0-70℃
Storage temperature: -40° to +85° C.
Humidity:0-95% (non-condensing)
Package:
1. 1 x transmitter (client side) with SFP module.
2. 1 x PCI-E card (host side) with SFP module.
3. 1 x Power Supply Adapter DC 5~12V with US/EU/UK/AU plug.
4. 1 x Manual.

Shipment:
Once order received, we will worldwide deliver by DHL Express for about 1 week delivery.
Or shop on Amazon with worldwide Shipment (Free & Expedited)
BY-PUSB-327MF (4 Ports)           BY-PUSB-126MF (1 Port)