---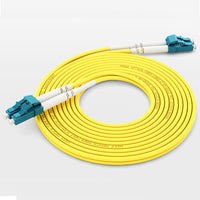 Featuring:
Fiber Patch cable applications, SFP and backplane applications.
Zipcord Fiber Patch Cords also can be used for desktop connections.
Jacketed fiber is enclosed, with a bundle of flexible fibrous polymer strength members.
The Standard Ferrules are made of zirconia ceramic, which offers the highest performance and durability of all ferrule material types.
Cable Specifications:
Wavelengths: 1310 and 1550nm
Color Code: Yellow
Bend Radius: Minimum / 5cm
Cable Jacket: 3.0mm LSZH
Operating Temperature: -4° to 158° F (-20° to +70° C)
Fiber Core: OS1 9/125
Jacket: Standard Zip Cord Duplex
Length in Meters: 1
Length in Feets: 3.28084
Termination: Connector A (LC) / Connector B (LC)
Polarity: A(Tx) to B(Rx)
Insertion Loss: ≤0.3dB
Return Loss: ≥50dB
Polish: UPC to UPC
Fiber Grade: G.652D
Shipment:
Once order received,  we will ship out together the equipments by DHL Express for one week arrival.