---
Features:
With Mini Size; Only Functional PCB boards for choice to integrate the comprehensive systems
No need Driver, plug and Play;
LED Status Indicator; 

"SD" "HD" Sync Signal Auto Sense and LED shows out individually.

with Hot Pluggable SFP transceiver
Genlock over Optic Fiber Extender includes 1 x Transmitter and 1 x  Receiver. its Mini Size 38 x 93 mm.  It transmite the Genlock signal over Optic Fiber Cable to Long distance of 20 Kilometers, the Operator can use a blackburst or tri-level central timing reference signal to synchronize the video output for the production systems in the remote location. This ensures that the live streaming event has seamless audio and video for the highest viewing experience possible.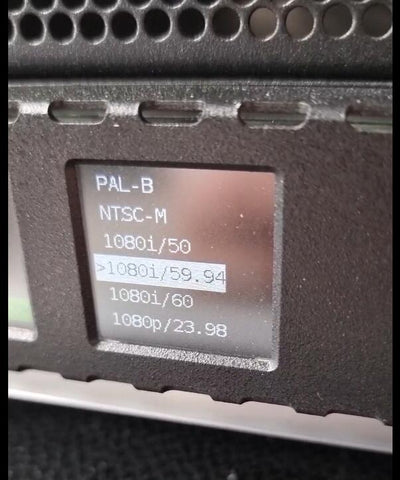 Specs
Analog Video / GL
Number of Channel: 1 Ch, Tx with 1 x Loopout
connector:  BNC
Connector Defination (the second image):  "2" for input of Tx board,"1" for loopout of Tx board, "3" for output of Rx board
Standard: PAL, SECAM, NTSC, Tri-level ( Bi / Tri level auto sense )
a) input=bi-level, output=bi-level
b) input=tri-level, output=tri-level
Impedance: 75 Ω
Bandwidth: > 5.8 MHz at +/- 0.2dB
Differential Gain/ Phase: < 1%
Group delay: < 10 ns
SNR: > 67 dB (CCIR567)

Optical:
Wavelength: 1310nm (default), CWDM wavelength Optional
Connector: 1 x LC
Datarate: 1000 Base
Output Power: -10~-3db
Rx Sensi:<-24db
Support Fiber Type: 9/125u single-mode
Estimated Distance: 0~20 Kilometers

Power Supply: 
Voltage range: DC 5~12V
Connector: 2.54 connector
Physical:
Enclosure Size: 95.37 x 52 x 22 mm
PCB board Size: 38 x 93 mm
Case Material:Aluminum
Color:Black
N.W.:0.75Kg/pair
Environment:
Working temperature:0℃-50℃
Storage temperature:-40-85℃
Humidity: 0-95% (non-condensing)

Package:
1. 1 x transmitter (client side) with SFP module.
2. 1 x receiver (host side) with SFP module.
3. 2 x Power Adapter.
4. 1 x Manual.


About shipment:
Once order received, we will worldwide deliver within 1~2 days by DHL for 1 week arrival
Or shop on Amazon with worldwide Shipment (Free & Expedited)