---
Features:
Supports 5 Gbps (SuperSpeed) / 480 Mbps (high-speed) and lower speed devices. it can automatically identify the speed of input source.   
Compatible with USB 3.2 Gen 1x1/USB3.1 Gen 1/USB3.0/USB 2.0/USB 1.1.  For more,  please kindly check the below configuration image.
Max extension distance 250 Meters (820 FT) over optical fiber cable for the devices like USB flash disk; but For real-time live transmission like Kinect devices ,  the Max distance is 150 Meters over Single-mode Fiber. 
It supports all major operating systems including Windows, Mac OS, and Linux.   


The Transmitter with USB 3.0 Type A Receptacle, t

he receiver with USB 3.0 Type B Receptacle.
Supports the widest variety of USB devices, especially 3D Sanner, Akai keyboard device.
with Hot pluggable SFP module;  support Full Duplex; Pure hardware design, no driver needed
Description:
BY-USB-805 includes a transmitter(client-side) and a receiver(host-side), which can extend the Supers peed USB 3.2/3.1/3.0/2.0/1.1 to a remote location over 1 or 2 core Single-mode fiber cable, Max distance 250 Meters (820 FT).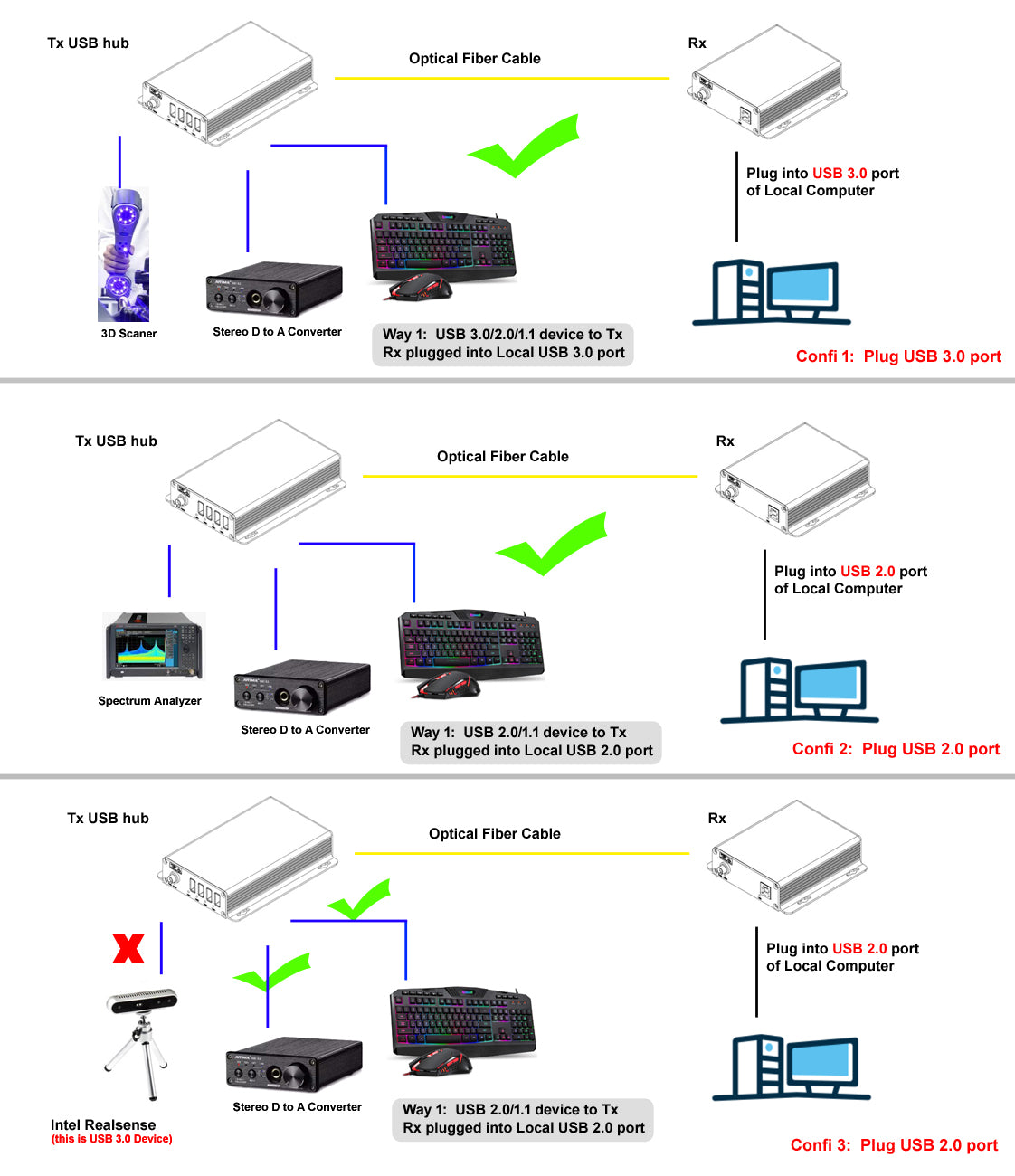 Note:1) 4 Ports of the hub share the 5 Gbps Capacity of 1 port at the local side, so it allows only 1~2 USB ports (like USB 3.0 Camera) work at the FULL speed at the SAME time, but for USB flash disk,  each of 4 ports can work at the SAME time.
Supported Typical USB 3.1/3.0 Devices:
1). USB 3.0 Camera:
Intel RealSense, XiQ USB 3.0 Camera, Kinect Xbox, Kinect Azure, EMCCM camera etc
2). Instruments:
Data Acquisition, Spectrum Analyzer, Oscilloscope, Ultrasonic Testing, Telescope,, 3D Scanner etc
3). Aduio Device:
Stereo D to A Converter, AKai Keyboard etc
4). Computer Peripherals:
Keyboard Controller, USB 3.0 Printer, USB 3.0 Flash Drive etc
5.) All USB 2.0/1.1 Devices such as Cameras, Printers, Scanners, Audio devices, USB touch screens, Game Controllers, Mouse and Keyboard Dongle, FTDI USB to RS232 Converter, FPGA Programmer, USB video capture device, Orientalmotor Controller, USB Bluetooth Dongle, USB headset, USB to RS232 Adapter etc
Application:
1.Industrial video transmission
2.USB 3.0 Vision cameras.
3.HD video surveillance system.
4.High - speed data acquisition system.
5.Remote storage.
6.Digital signage and TV wall.
7.Industrial printer system.
8. VA/VR systems.
9. Telescope Site.
Optical:
Connector: 2 x LC or 1 x FC
Wavelength: 1310nm; 1330nm/1270nm
Support Fiber types: 9/125μm
Tx & Rx Each USB port supports Data rates:
* Super-Speed (5.0 Gbps)
* High-Speed (480 Mbps)
* Full-Speed (12 Mbps)
* Low-Speed (1.5 Mbps)
Physical:
Size (L× W ×H):1) Transmitter: 146 x 104 x 28 mm ; 2) Receiver: 111 x 104 x 28 mm 
USB Connector Type:  Tx with USB 3.0 Type A Receptacle, Rx with USB 3.0 Type B Receptacle, 
Case Material: Aluminum
Color: Black
N.W.: 1.00Kg
Power Voltage: 5~12V DC
sender power consumption:<18W
receiver power consumption:<5W
Environment:
Working temperature:0℃-50℃
Storage temperature:-40-85℃
Humidity: 0-95% (non-condensing)
Package:
1. 1 x transmitter (client side) with optical module.
2. 1 x receiver (host side) with optical module.
3. 1 x Power Adapter DC 5~12V with US/EU/UK/AU plug.  the receiver is powered by the host computer.
4. 1 x Manual.
About shipment:
Once order received, we will worldwide deliver by DHL Express for about 1 week delivery.

Or shop on Amazon with worldwide Shipment (Free & Expedited)
BY-USB-805DF (2 core   Fiber)                       BY-USB-805SF (1 core Fiber)