---
Features:
Dynamic Microphone Audio  over 500 Meters MM Fiber or 20 Kilometers SM Fiber
Rx Supports 16-bit digitally encoded broadcast quality balanced audio

Supports stand-alone or rack-mount installations

Plug and Play design ensures adjustment-free installation and operation, and optical adjustments are never required. LED indicators are provided to instantly monitor the system operating status.

Applications for Rental, Staging, Theater, Stadiums, Theme Parks, Broadcast/Studio, CCTV audio and Professional AV applications etc
Description:
BY-XLR-391 is designed for 2 Ch microphone Input and 2 Ch output of line level balanced audio signals long-distance transmission over 1 fiber . TX directly input 2 Ch Dynamic Microphone.  After the optical fiber transmission ,output 2 Ch line level balanced audio from the RX, then connected to powered speakers or amplifier drive speakers.

Notice:  please check the Dynamic Microphone PIN defination,  if not the same,  the extender does not support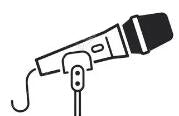 "1" Shield,   "2" MIC AUDIO (+), "3" MIC AUDIO (-) 
Supported Dynamic Microphone Specs:
Channel Number: 2 x Ch
Microphone element: Dynamic
Microphone polar pattern: Cardioid
Frequency Response: 40-20,000 Hz
Impedance: 560 ohms
FS: 48 ksps
PGA gain: 0-60dB
Connector: XLRM
Output Line level Balance Audio:
Connector:XLR
Number of Channels: 2 Ch
Input / Output Impedance:10K Ohm
Input capacitance LINE inputs:10 pF
Max input/output voltage: +4 dBu (1.228 Volts). if over the limit, the audio distortion will appear.
Frequency Response:10 Hz~24kHz @±3dB
Sample Rates From:48kHz
SNR:> 80dB
Optical:
Wavelength: 1310nm 
Output Power: -14~ -8dBm
Optical fiber: 50/125u multimode,62.5/125u multimode,9/125u single mode
Rx sensitivity: -30dBm
Optical connector: 1 x SC, 1 x LC, 1 x FC, 1 x FC
Distance: 0~500 Meters (MMF) / 0~20 Kilomters (SMF)
Electrical & Mechanical:
Input Power Requirements: DC 5V@2A 
Power Adapter: AC 90V~240V 
Power Consumption: < 5W 
Stand-Alone Dimensions: 168 mm × 154 mm × 45 mm
Shipping Weight: (include Transmitter & Receiver ) 2.5kg
Environment:
Operating Temperature: -20°C ~ +75°C
Storage Temperature: -40°C ~ +85°C 
Relative Humidity: 0% ~ 95% (non-condensing) 
MTBF: >100,000 hours

Package:
1. 1 x Transmitter
2. 1 x Receiver
3. 2 x Power supply with US/UK/EU/AU plug

About Shipment:
Once order received, we will worldwide deliver by DHL Express for about 1 week delivery.
Or shop on Amazon with worldwide Shipment (Free & Expedited)
BY-XLR-391 (Dynamic Microphone audio over fiber)
or Directly Contact us at sales@transwan.com.cn for offline transaction.