---
BY-EFP-PAD301 Live-Link Remote UHD 4K Camera Interface System consists of camera fiber optic adapter (TX) + fiber optic base station (RX) + Nuetrik Hybrid Elimination adapter,  The customized design for long-distance (Max 10 Kilometers Single-mode Fiber) transmission of EFP live production system because it has SMPTE Hybrid Elimination Device Adapter (LC Fiber Connector + AC Power ) into Neutrik Hybride Cable) at the Adapter side.
Features:
A) Handles pathological pattern; 
B) Over Max 10 Kilomters Single-mode Fiber, with Neutrik OpticalCON DUO Hybride Connector.
C) 1 Channel Bi-directional 12G SDI of UHDTV/4K/8K/HDTV/SDTV SDI signal over optic fiber, Supports SMPTE ST-2082, ST-2081, 424M, 344M, 292M, 259M, DVB-ASI
D) 1 Channel 3G SDI
E) Comprehensive Functions: BB/TC/TALLY/Remote Control/Intercom/Ethernet 
F) V-mount or A-mount battery plate optional.


Application: 
Television studio, mobile studio 
EFP Electronic Field Production, major sporting events and large celebrations broadcast live 
ENG camera (outdoor photo camcorders) upgraded to a EFP camera. 
OB Van
Functions includes: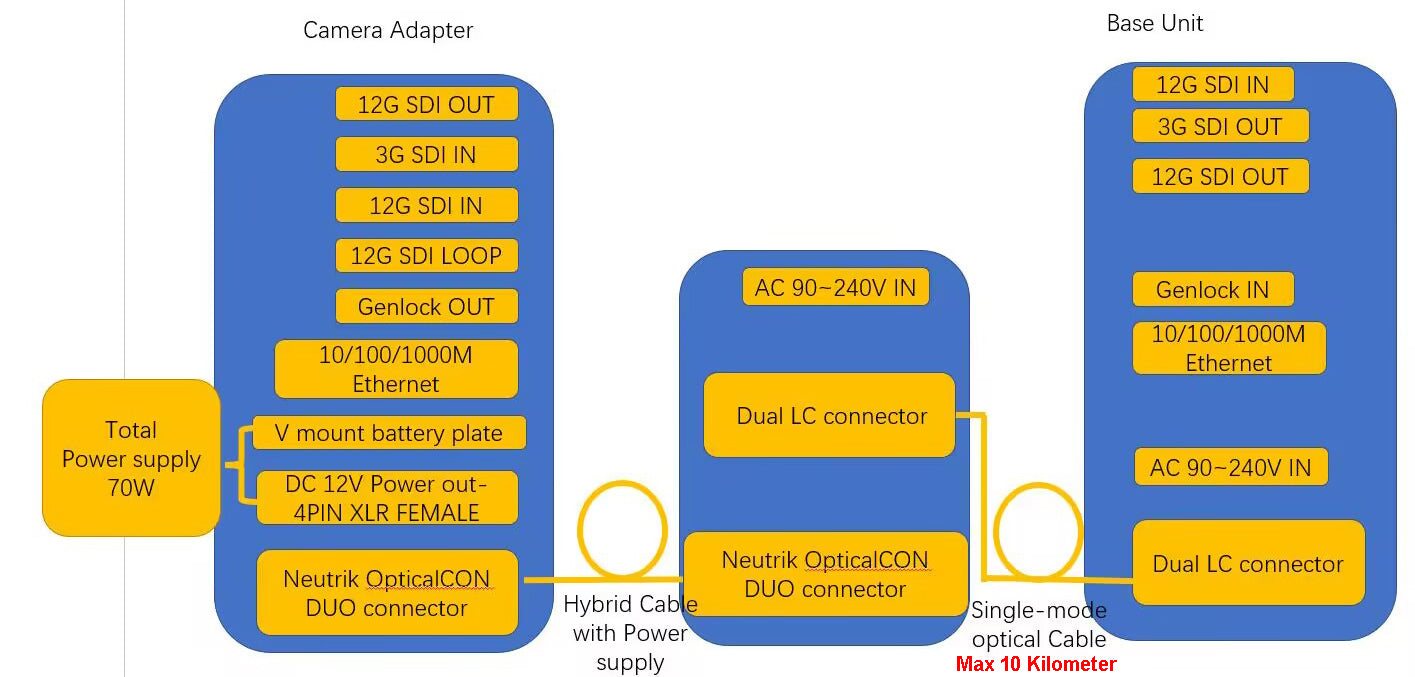 1 x  Ch Bi-diectional 12G-SDI 
1 x 3G-SDI Forward
1 x Genlock,  BB/Time code & Tally(Optional) 
1 x 10/100/1000 Full Duplex RJ-45 ethernet

Parameters:
Note:  we will offer after confirming all functions and details, Almost all are the customized,  Please contact us at sales@transwan.com.cn for more information.