---
Features:
Mini size (L x W x H): 108.82 x 52 x 22 mm, SMALL size benefits to integrate the AV systems like Underwater Camera Systems

Supports 4K (UHD) resolution formats up to 4096x2160/30p  (4K @30Hz); Support uncompressed Signal over Fiber.

Max extension distance 10 Kilometer(6.2 Miles) over 1 Single-mode Fiber or 300 Meters (OM3 Multi-mode Fiber); with Bi-directional 10Gbps SFP; support Full Duplex; LED indicators

Color Depth: 1080p resolution with up to 16 bits/pixel; Supports 4K HDMI bit-rates up to 3.4 Gbps/color,10.2 Gbps total

The 4K HDMI input signal from a source device like 4K HD Camera or Blu-Ray player is converted into light pulses over 1 strand of fiber optic cable. On the display side, the receiver SFP module converts the light pulses back to the 4K HDMI signal for display on a monitor.. BY-HDMI-415SF supports optical links over the single-mode fiber or OM3 MM Fiber. it is a powerful solution for digital display applications that require flawless signal quality over extremely long fiber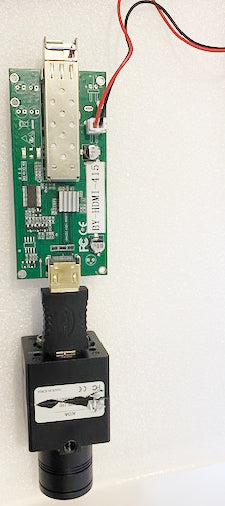 Specs:
BY-HDMI-415SF 4K/2K HDMI Fiber Extender includes a transmitter and a receiver, which is a high-speed fiber optic transport system capable of distributing high resolution 4K HDMI or DVI signals. LED indicators;

Performance:
Compliance: HDMI v1.4,  DVI v1.0
Maximum Pixel Clock Frequency: Supports pixel clock rates up to 340 MHz
Maximum Video Bit Rate: Supports digital signal bit rates up to 3.4 Gbps per color
Color Depth: 1080p resolution with up to 16 bits/pixel
Digital Audio: Dolby Digital, Dolby Digital Plus, Dolby True HD and DTS-HD Master Audio
HDTV Formats: all HDTV resolutions including 1080p, 2K and 4K (UHD) formats
PC Resolutions: up to 4096x2160 / 24p/ 30p  (4K @30Hz)

Optical:
Laser Source: 1310nm DFB
Distance: 10 Kilometers over 9/125μ SM optical fiber or 300 Meters (OM3 MM Fiber)
Connections:
HDMI Input / HDMI Output: 19-pin female HDMI connectors
Optical connector: 1 x LC

Mechanical & Environmental:
Dimensions: 22 mm x 52 mm x 108.82 mm
Weight: less 0.5 kg per pair
Material: Aluminum
Operating Temperature: 0° to +50° C
Storage Temperature: -20° to +70° C
Humidity (storage / operating): 10% to 90% (non-condensing)

External AC Power Adapter
Input: 100~240VAC / 50-60Hz, 0.5A
Output: 5V DC, 2.0A
Maximum Power Consumption
TX Unit: 3.5 watts
RX Unit: 3.5 watts

Package:
1. 1 x transmitter with SFP module.
2. 1 x receiver with SFP module.
3. 2 x Power Adapters
4. 1 x Manual
About shipment:
Once order received, we will worldwide deliver within 1~2 days by DHL for 1 week arrival
Or shop on Amazon with worldwide Shipment (Free & Expedited)
BY-HDMI-415SF (over 1 Fiber)
or Directly Contact us at sales@transwan.com.cn for offline transaction.