---
BY-SHED-LC2LEMO allows you to use ordinary Single-mode or Multimode optical Fiber over 500 Meters (MMF)/10 Kilometers (SMF). then at the near place of Camera, you can use our this device and Short Lemo Hybride optical cable to connect between CCU base and Camera back fiber link in your venue/facility infrastructure because you are allowed to directly connect BY-SHED-LC2LEMO with the universal AC 115-230 V power , so that this short Lemo Hybride optical cable has its output power DC 76 V for Camera Back Fiber link. so you can avoid the length limit of Lemo Hybride Cable when you need the long distance transmission over Fiber. for more, you can see the last image.
SPECS
ELECTRO-OPTICAL
Fiber type: Single-mode
Type: optically passive
Dimensions(W x H x D): 188 x 254 x 45 mm
Weight: 0.5Kg
Connector:
(A) Electrical: IEEE 3-pin
(B) Optical: LEMO (for more, please check the below specs of Panel plugs (FXW) 
(C) Cnlinko LP24 Dual LC/FC/SC/ST (for more,  please check the below related specs)
Voltage: 115-230 VAC
Output max load: 200 VA
Max Output Voltage:   76 V
Power consumption: <20 W
Temperature range: -20 to 55 °C
Humidity range: 0 to 95 % non-condensing
Package:
Only 1 piece as the main image
Supplements:
(一)LEMO Panel plugs (FXW) with tails for panel builds
The FXW.3K SMPTE panel-mounted plug is used as a standard on many HD
hybrid fibre camera CCU's. The same connector is used in patch panels and other channel connections from the CCU end, or and is used on other equipment that is designed to take advantage of SMPTE hybrid fibre links. The connector can be provided with either bare tails for direct connection to the cable with fibre splicing or with connectors terminated for connection inside a splice junction box or similar.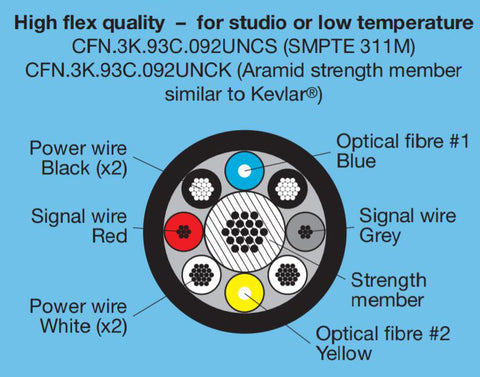 Optical Cable Component Parameters:
Inserting and Pulling Times: 20000 Times
Material: Shell is Stainless Steel
Protection Level: IP67
Salt Spray Performance: 48H
Working Temperature: -40℃~+85℃
Insection Loss: ≦0.75dB
Cable Assembly Retention: 500N
Fiber Mode: Single Mode
Attenuation(After Cabling): ≤0.4dB/km@1310nm

(二)The Cnlinko LP24 Dual LC is a fiber optic surface mount socket signal connector. Accommodates 26-24 AWG cable. It locks into the corresponding fiber optic plug.

Dual channel system
Quick and easy operation
Rated for moisture and dust protection
Comes with waterproof cap
Dimensions (without cap)- 35.7 mm Height x 33 mm Width x 29.5 mm Depth (1.4" x 1.3" x 1.16")
Number of Contacts- 2
Wire Gauge- 26-24 AWG
Diameter Range- 5.5-7mm
Insulation Resistance- > 500MOhm
Ingress Protection- IP65/67
Durability- > 500 times
Operating Temperature- -40 C to 80 C (-40 F to 176 F)
Housing Material- Zinc Alloy
Flammability Rating- UL94-V0